February is coming to an end, so I thought I would get my March Game Plan together and it just so happens that a BIG TPT sale is coming up for hitting 3 million!  Perfect timing for me to purchase items that I need for therapy in Spring.
I just added some new products that I am going to begin using in therapy this month!
You can check out my No Prep Springtime Speech & Language Pack with FREEBIE which is filled with tons of activities that are all in black and white ink and require little to no prep!  Perfect for the busy IEP season!!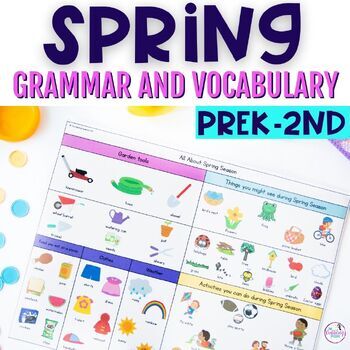 I have a lot of kids on my caseload this year that are working on correct grammatical structures and basic vocabulary skills, so I made a Spring time themed grammar and vocabulary pack that is very similar to my School Time Grammar and Vocabulary Activities.  You can grab that pack HERE!I LOVE the clipart!!
SWISH! Open Ended Basketball Game FREEBIE is perfect for my 6th grade articulation boys!
I will be using the St. Patrick's Day themed craft with some of my kiddos this month.  You can grab this bundle HERE!
I purchased this Earn Some Green figurative language packet last year and will be using it with some of my older language groups.
With my younger kiddos, I will be reading one of my favorite books Move Over Rover and using my extension activities from my book companion pack!
Here are some of the cool items I will be purchasing during the sale to get me through the Spring season!
I bought Articulation Notebooks over the weekend because it was such a GREAT price! There are several older articulation students that detest drill and kill, so I love that this is more interactive.
Trying to give more homework to my speechies, so this is perfect for March.  Grab this set from Simply Speech to use with your artic kiddos!
A Colorful You Book & Companion Pack by The Speech Bubble creating this wonderful book using colors to help children identify their emotions!  I am excited to try this out with some of my more verbal students on the autism spectrum!
Write And Say The Room from All Y'all Need is perfect for my mixed artic/language groups.  I love that it gets the kids up and moving!!
What's in your cart?  Grab some fun items in my store and stock up for Spring!!
(1692)